Set in the picturesque country of Switzerland, the European Training Network SIMPPER_MedDev recently concluded an intensive 2-week course that seamlessly blended education and enjoyment. This rendezvous marked a significant milestone as all early-stage researchers (ESRs) converged in Switzerland for the last training modules of the project. From the 4th to the 15th of September 2023, FHNW University of Applied Sciences and Arts Northwestern Switzerland hosted immersive training sessions titled "Digitalization in Polymer Production" and "Surface Characterization." This was successfully organized by Prof. Dr. Per Magnus Kristiansen from FHNW and Prof. Dr. Giovanni Lucchetta from the University of Padova.
Trends in Digital Polymer Production
In the ever-evolving landscape of manufacturing, the incorporation of digitalization has become imperative to meet the escalating demands and stay ahead of the curve. The "Digitalization in Polymer Manufacturing" module developed into a comprehensive exploration of the integration of digital production and polymer manufacturing. Respected experts participated in our sessions and helped us understand the intricacies of industrial production, including process control, simulation tools, measuring technologies, and preventive maintenance.
The initial day introduced us to smart factory concepts, demonstrated through a hands-on application using a Fischertechnik training model.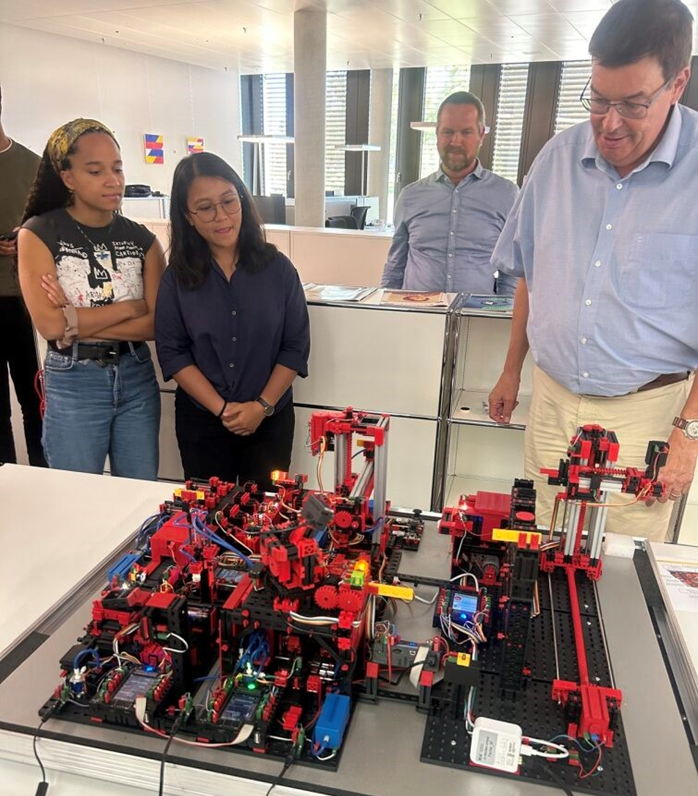 The next day, Hannes Zach from ENGEL elucidated how digital solutions consistently support injection molders, showcasing their innovative use of ultrasonic sound for error detection. Laurent Feuz then shared intriguing research on utilizing laser-structured surfaces for enhancing dining experiences.
On the third day, a visit to FLEX Precision Plastics Solutions provided insights into how they solve problems in injection molding processes including the application of acoustic sensors in 4-cavity tool injection molds for predictive maintenance.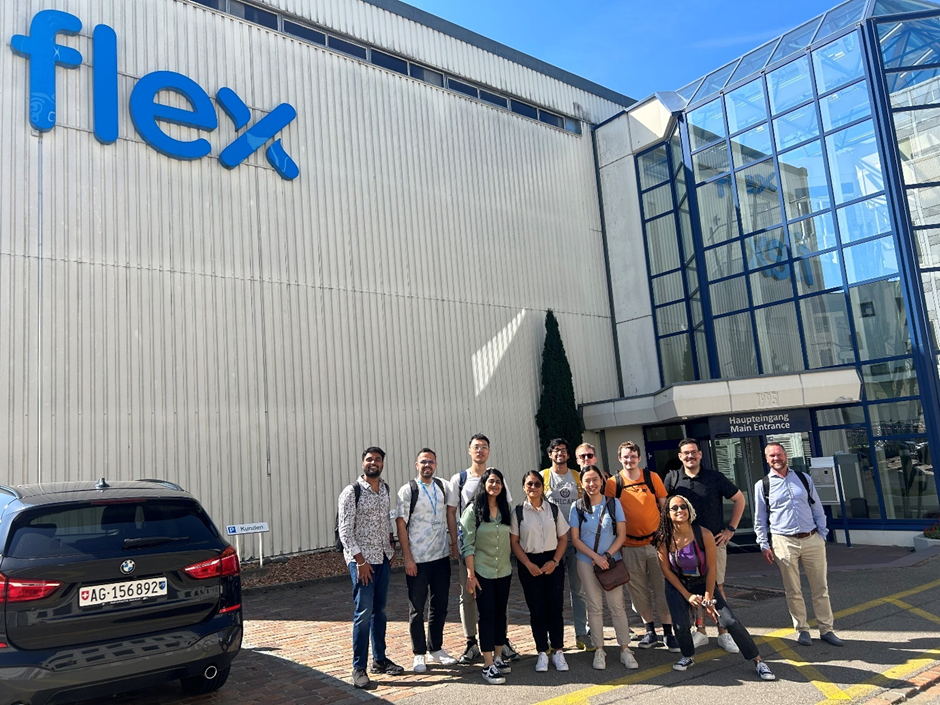 In the afternoon, Vinzenz Frauchiger from Ypsomed discussed intellectual property, guiding us through drafting hypothetical patents and utilizing the IP Rally patent search engine.
The subsequent day brought André Bernard, the CEO of Matriq AG, to share the incredible journey of their startup, acknowledged multiple times among the top 100 Swiss startups. Their revolutionary product, DynamicMold®, introduced the world to the first digital date/time stamp for plastics, utilizing pixels with heaters for traceability through in-mold marking. A laboratory demo of this was conducted in the injection molding machine in the lab.
The week continued with Clemens Halder and Thomas Wechner of WESTCAM showcasing industrial metrology solutions using 3D laser scanners. André Hau of Plastics Engineering Group discussed the strategic use of simulation tools and digital twins in polymer production, shedding light on their role not just in predicting failures but also in improving environmental impact factors.
Sonja Neuhaus of FHNW shared insightful research on surface functionalization of hydrogels using electron beam-assisted grafting and UV crosslinking. Lastly, Thomas Michl of FHNW shared how plasma polymerization is employed in antimicrobial and antifungal coatings, as well as in cancer diagnostics.
The week concluded with an afternoon apero and a delightful dinner at an Italian restaurant, providing an opportunity for engaging conversations over a delectable meal.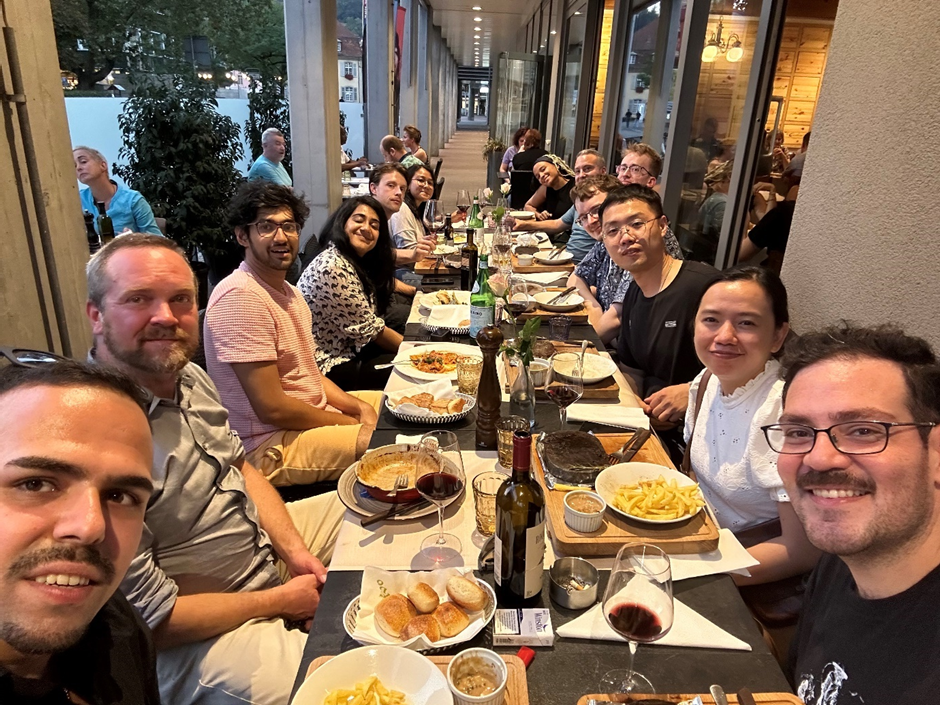 Surface Characterization
Transitioning from the digital landscape, we have dived into the intricacies of polymer surface characterization. This module unfolded with a focus on surface topography, chemistry, tribology, and wear analysis. The topics were explored not just through lectures but also through hands-on lab sessions that brought theory to life.
Filippo Zanini from UNIPD guided us through surface characterization techniques, including tactile, optical, and tomographic methods. UNIPD's physics department experts further enriched our knowledge by providing a thorough overview of liquid wettability theories and characterization. Their groundbreaking work showcased innovative approaches to manipulate liquid wettability, including the utilization of light for microdroplet handling in open-surface microfluidic devices. Philippe Kempe from Rtec Instruments enlightened us on tribology principles, scratch testing, and instrumented indentation testing, with intriguing applications in medical fields like friction testing on lubricity in catheters.
The time at FHNW's labs with workshops on FT-IR microscopy, Raman spectromicroscopy, AFM, confocal laser microscope, SEM-EDX, and contact angle goniometer, added a practical touch to the theoretical knowledge.
Beyond the technicalities, Markus Höhnen from ADDITIVE GmbH conducted a workshop on data analysis and model fitting using Origin, making experimental data analysis less daunting and more approachable.
Swiss MedTech and Additive Manufacturing Expo
ESRs had the chance to attend the Swiss MedTech and AM Expo held in Luzern, Switzerland. This event, which ranks as Europe's third largest medtech market, brought together approximately 180 exhibitors from Switzerland and abroad, encompassing the entire value chain of the medtech industry. The expo served as a platform to showcase the latest advancements in medical technology and additive manufacturing, emphasizing innovations in design, materials, technologies, and processes.
Several groundbreaking products captured the attention of ESRs during the event. Noteworthy among these is QUO's ZipUp, an inclusive zipper solution designed to empower tetraplegics to independently close their jackets. Additionally, Debiotech SA presented a portable dialysis machine that significantly enhances the quality of life for patients. GOGOA's 3D printed exoskeleton, named HANK, emerged as another notable medical product, offering a consistent gait pattern for patients and markedly accelerating traditional rehabilitation times, thereby improving overall patient outcomes. Inuru GmBH showcased luminous label products aimed at enhancing medical adherence, featuring bright and visible warning indicators, as well as user-friendly guidance directly on the packaging of medications and medical devices.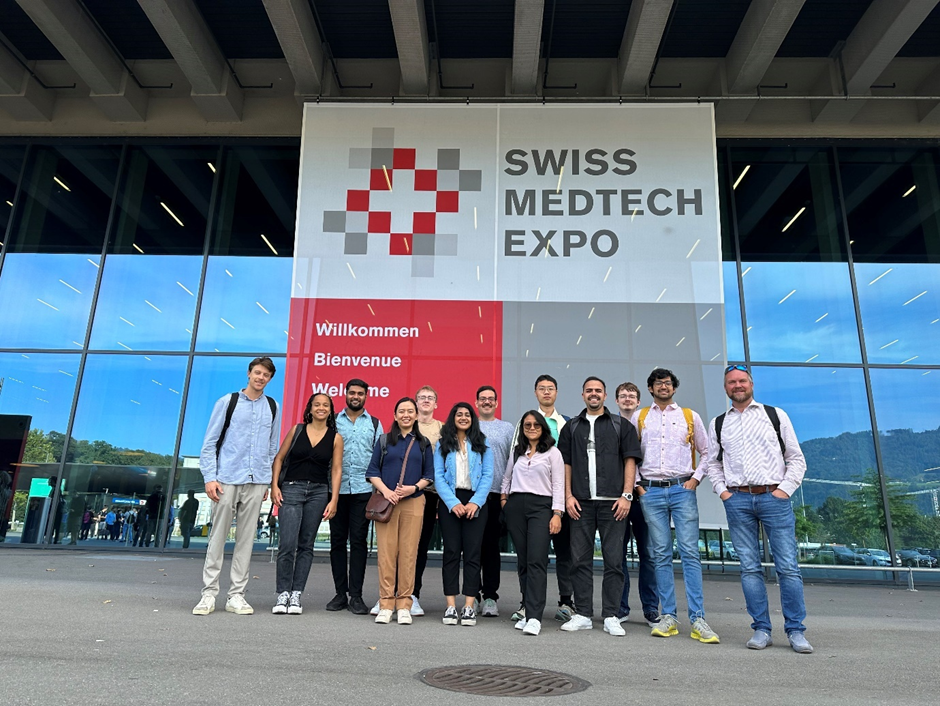 ESRs' Swiss Escapade
The ESRs' experience extended beyond traditional classes and workshops; we also enjoyed some memorable weekend activities! Our adventure took us to Stoos Ridge, where we embarked on an exhilarating journey. Riding the steepest funicular train in Europe, we reached an idyllic alpine village. From there, a scenic chair lift transported us to the mountains, where we began our hike along the ridge, offering breathtaking views of a serene lake.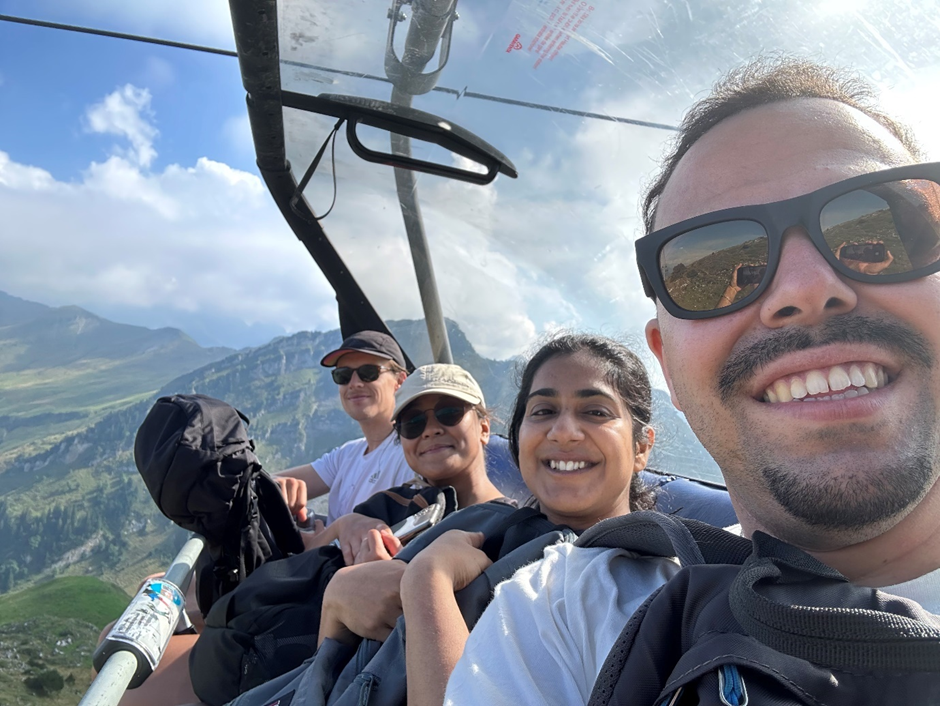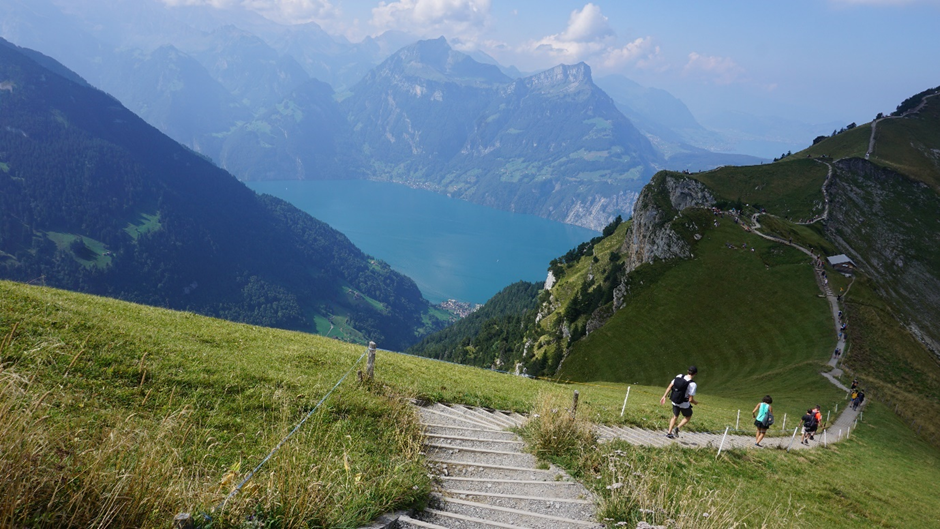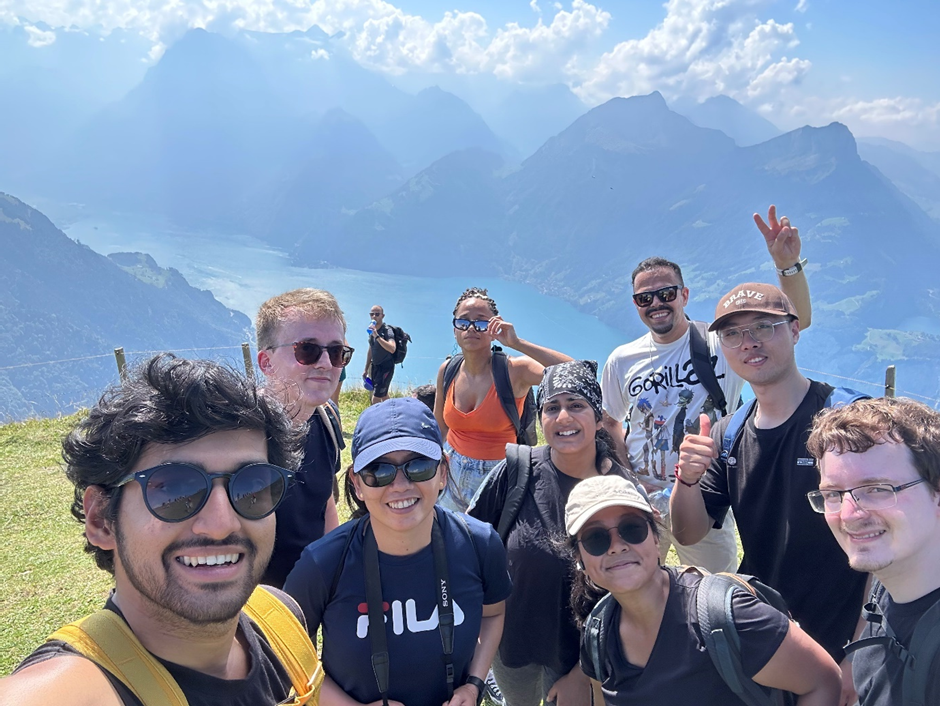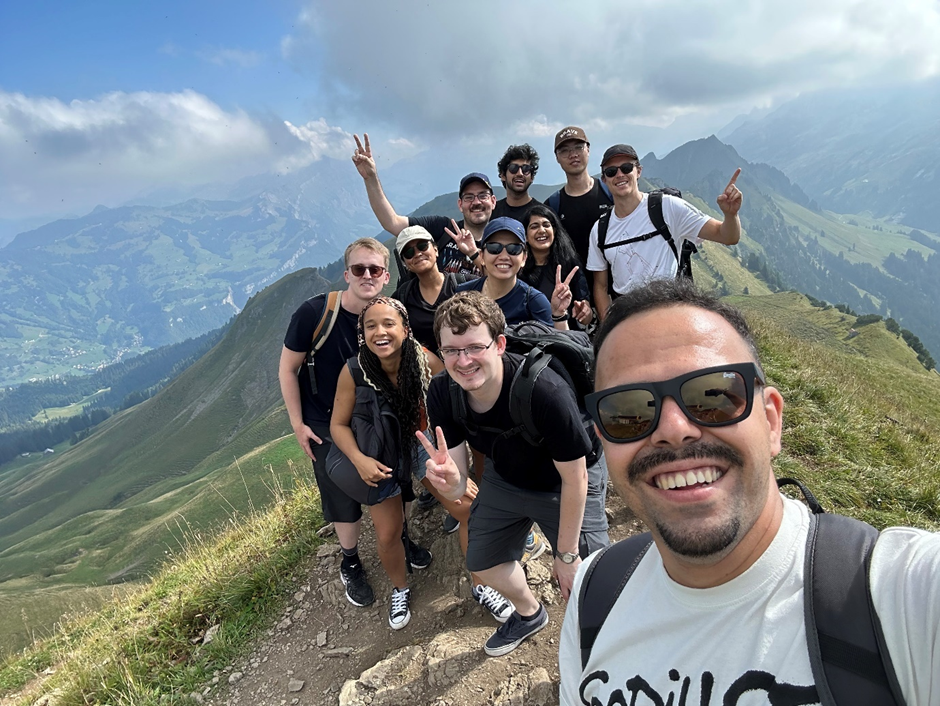 During another delightful day, we visited the Lind Home of Chocolate Museum in Zurich. Witnessing the awe-inspiring Lindt chocolate fountain, we immersed ourselves in the enchanting world of chocolate. The museum journeyed us through the rich history of Lindt chocolate, unraveling the story of how it evolved into the iconic brand we know today.
As the curtains closed on this trip to Switzerland, it became clear that our time here had been more than just a training program; it had been a transformative experience that had given us, the ESRs, not just technical knowledge but also a wider perspective on the intersection of science and innovation while also enjoying it along the way.