As I reflect on the first two years of my PhD journey, which marks the midpoint of this rigorous academic pursuit, I find it crucial to delve into the significance of identifying the strengths of my research direction and the breakthroughs within my PhD work. I aim to illustrate this importance through my own experiences.
My research project revolves around "Toward High-Precision and Large-Scale 3D Printing of Polymers via Digital Light Processing (DLP)." Upon the introduction to this project, my initial steps involved an extensive literature review and market research. While contemplating the purchase of a commercial DLP printer, the market analysis revealed only two companies worldwide meeting our criteria, both exorbitantly priced. Consequently, the decision was made to construct a high-precision DLP 3D printer in-house, sparking my contemplation on the challenges, rewards, and potential outcomes of my PhD journey. At this juncture, I meticulously assessed the strengths, potential problems, and challenges inherent in my project. Discussions with fellow PhD candidates unveiled concerns about the difficulty of automating systems during their PhDs, anticipating uncontrollable timelines. Surrounded by peers who regretted not utilizing the equipment they had built during their studies, I viewed the equipment construction as a potential "breakthrough point" for my project—a perspective not universally shared.
Upon enrollment, I set a goal to complete the design, assembly, and optimization of the equipment within the first year of my Ph.D. Throughout that year, I immersed myself in DLP system design optimization literature, attended numerous online additive manufacturing conferences (given the COVID-19 circumstances), and consulted commercial DLP printer companies and hardware vendors. Fortuitously, I successfully built the high-precision 3D printer within the first year, identifying it as my personal "breakthrough point." This achievement not only marked the completion of my first significant task but also deepened my understanding of DLP printing, transcending the basic printing principles. I gained insights into the entire printing process, including the impact of hardware on final results. This newfound understanding led to the identification of my research direction: high-precision printing, large-format printing, microchannel printing, and more.
As we navigated challenges in DLP system design and construction, our innovative solutions resulted in the successful filing of two European patents—a delightful surprise for my PhD journey. While most Ph. D.s contribute research papers, the rarity of holding two European patents is advantageous for future job prospects. Additionally, my hands-on experience in building high-precision printing systems allowed me to participate in numerous mechanical engineering competitions. The well-optimized equipment provided a competitive edge, influencing the outcomes of these competitions significantly. The realm of "building equipment" is often shunned by many in the PhD community. However, I perceive it as my personal "breakthrough point." Constructing a high-precision DLP printing system allowed me to patent the equipment, address challenges encountered during the construction and printing process, and publish my papers. With the support of patents and papers, I actively engaged in competitions, gaining valuable insights into industry needs. This ensured my research aligned with industry demands, a crucial aspect often overlooked in academic pursuits.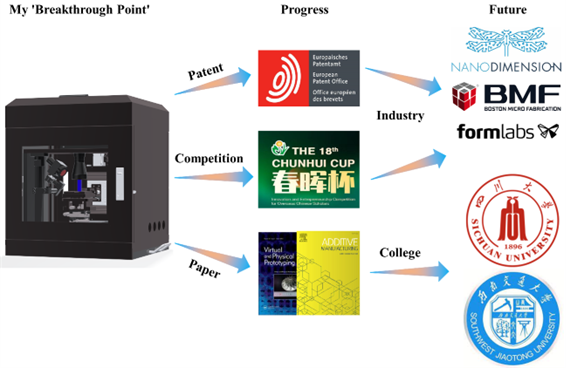 In retrospect, building a high-precision 3D printer during my PhD has not only defined the uniqueness of my research. Still, it has also opened doors to numerous opportunities and resources, enriching my doctoral journey.